I hope you all had a wonderful Christmas yesterday! Did you get everything you wanted from Santa!?
Today I want to introduce you to my bloggy bestie, Britni, from Hubby Made Me. She shares amazing crafts and DIY projects on her blog as well as the occasional recipe. Britni is amazing and wonderful and so incredibly funny! And I can barely go a day without talking to her… literally. We constantly text. She is one of my favorite people in this world! I can't wait for you all to see the awesomeness that is Britni!
Hi there! I'm Britni and I blog over at Hubby Made Me, the place where I give hubby a break from my creative endeavors by sharing ideas with you! You can always find me
working on a craft or DIY project, or at least thinking about one. I also love creating free printables, just like the one I'm sharing with you today!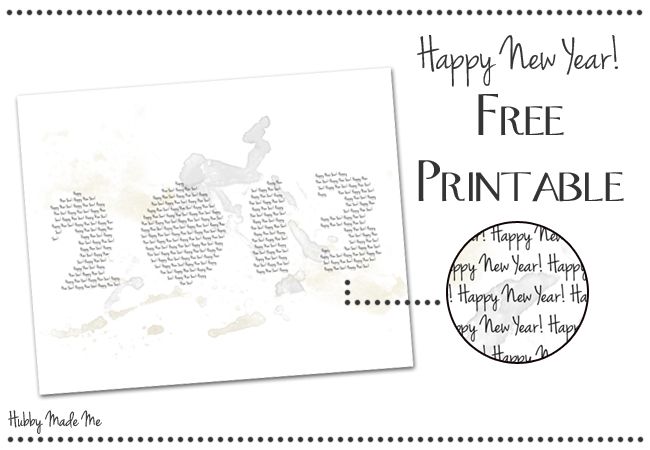 I have to admit, I do have a slight obsession with word-filled shapes. I can't help it, they are so fun to make! Each number in this printable is filled with the phrase "Happy New Year!" and is easy to read once printed. It's hard to get a good shot of it with such small words, but I promise, it's not blurry! Here is a zoomed-in image to show you what I mean:
Of course it won't print that large, but it will be legible. The picture below doesn't do it justice! Once you click the link to download it, you'll see what it will actually look like when printed. The watercolors are so pretty!
This is a free 8×10 landscape print, just for you! All you have to do is click the link below to download and print!
This is a PDF file so you will need the latest free version of Adobe Reader.
You can download it here.
**For personal use only. Feel free to share by linking back to this post for download.**
Thank you so much for having me! I would love to get to know you so come on over and visit me! I hope you had a wonderful holiday season and have a Happy New Year! And of course, enjoy your printable!
What did I tell you? Doesn't she make amazing stuff? This printable is seriously amazing! I'm always eagerly waiting for Britni's next printable! Here are a few more examples of Britni's amazing stuff:
Go check Britni out! You can find her at Hubby Made Me, on Facebook, Pinterest, or Twitter! She pretty much rocks my socks!